Christo | Bulgarian, born 1935
Christo Javacheff was born in 1935, in Gabrova, Bulgaria. He studied at the Fine Arts Academy in Sofia (1953–56) before defecting to the West, via Prague, in 1957. That year, he spent one semester at the Akademie der Bildenden Künste in Vienna. Christo's first artworks, dating from 1958, consisting of appropriated everyday objects such as bottles, cans, furniture, and oil drums wrapped in canvas, bundled in twine, and occasionally overlaid with automobile paint,  were heavily influenced by Vladimir Tatlin's Constructivist edict "real materials in real space. Christo's first solo exhibition, at Galerie Haro Lauhus in Cologne, in June 1961, included his inaugural collaboration with his wife, Jeanne-Claude de Guillebon, Dockside Packages, a collection of draped oil barrels and rolls of industrial paper arranged outside the gallery along a dock. Throughout the 1960s, Christo and Jeanne-Claude outlined proposals for similar projects, often involving iconic buildings, like the École Militaire station of the Paris Métro (1961). In the summer of 1968, they received permission to carry out three of their proposals: Wrapped Fountain, Piazza Mercato, Spoleto, Italy, 1968; Wrapped Medieval Tower, Spoleto, Italy, 1968; and Wrapped Kunsthalle, Bern, Switzerland, 1968. The following year, they cloaked both the Museum of Contemporary Art in Chicago and a mile-long section of the Australian coastline at Little Bay, north of Sydney. Beginning in 1970, the artists executed numerous projects, all of which became icons of environmental art. In his solo work, Christo continues to conceive projects, some existing on paper only, in which found objects are wrapped in fabric or plastic and then twined. These assemblages embody many of the themes Christo and Jeanne-Claude explored in their artistic partnership.
Major exhibitions of the artists' work have been organized by the Institute of Contemporary Art in Boston (1979), Museum Ludwig in Cologne (1981), Hiroshima City Museum of Contemporary Art (1990), Martin-Gropius-Bau in Berlin (2001), and the Metropolitan Museum of Art in New York (2004). Jeanne-Claude died in 2009; Christo lives and works in New York City.
http://christojeanneclaude.net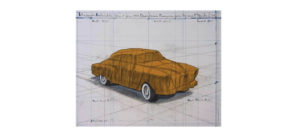 Save
Save