New Editions from Diane Villani and Hauser & Wirth
…
Edition Review
Ida Applebroog, Ephemera (2014)
Suite of five etchings with photogravure (essay by Elisabeth Lebovici), 12 x 15 inches each. Edition of 25. Printed by Lothar Osterburg Studio and Jennifer Melby. Published by Hauser & Wirth Editions with Diane Villani. $12,000 for the suite.
Matthew Day Jackson, LIFE, June 5th 1944 (2014)
Rust (iron oxide) transfer and woodblock, 30 1/4 x 21 3/4 inches. Edition of 25. Printed by Shore Publishing. Published by Hauser & Wirth Editions with Diane Villani. $2,500.
These recent projects by Ida Applebroog and Matthew Day Jackson are between Hauser & Wirth and veteran print publisher Diane Villani to produce and support editions by the gallery's artists. Villani will continue to publish under her own imprint, Diane Villani Editions, but will also be intimately involved in the gallery's publication projects; Jacqueline Sischy is heading the initiative for Hauser & Wirth.
The seed for the project was planted in a 2012 meeting to discuss the print legacy of Dieter Roth. Villani, Björn Roth (the artist's son and collaborator) and Barry Rosen, who represents the estate, met at the Roth studio in Basel. "We all felt that it was important to focus some attention on the conservation, exhibition and archiving of the remaining Dieter Roth print inventory," Villani explains. After a presence for these works was established on the gallery's website, Villani began to track down publications by other gallery artists, such as Ellen Gallagher, Louise Bourgeois and Guillermo Kuitca, to complement the Roth listings. "From there, it was only natural to expand to new publications."
Applebroog has been working with Villani for more than a decade, producing etchings, photogravures, digital prints and offset book works. Ephemera consists of five photogravures with etching in the artist's simple linear style. Each of the images was originally painted on the curved back of steel folding chairs, then photographed and digitally altered by the artist before being transformed into photogravure by Lothar Osterburg and printed by Jennifer Melby. Each is rich with narrative suggestion—a carefree businessman in his car, a disturbing and surreal representation of three girls locked together in stocks—but there no logical connection between them. Elisabeth Lebovici's brief and insightful essay, included as an introductory page, analyzes Applebroog's manipulation and deconstruction of the tools of visual narrative, especially her use of the box as a "non-mimetic" device to frame selected images (Lebovici duly defers to Meyer Schapiro) and her practice of dropping the viewer into the middle of the story. Lebovici quotes the artist: "There is no narrative, no beginning, no end. You enter by the middle."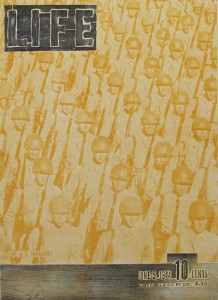 Matthew Day Jackson's print investigates the metaphorical and cultural implications of Life magazine, a subject he has previously explored in collages and canvases. This work recreates the magazine's June 5, 1944, cover showing a sea of marching, uniformed soldiers with the caption, "The US Infantry." For contemporary viewers who know their history, the date may conjure both exhilaration and dread, a visceral awareness that the following day—D-Day—would spell the beginning of the end of World War II, but at the cost of tens of thousands of young lives. Mortality, individuality and the subjective experience of time are leitmotifs for the artist, and are intimated here through the use of rust: the etched iron intaglio plate was oxidized through chemical and elemental treatments, and the corrosion provides the printed medium. It is an inexact method, and each impression is slightly different. Hand-carved woodblocks recreate the original masthead, date, price and subscription information.
These editions and others will be displayed in Hauser & Wirth's Roth New York Bar and its Roth Bar and Grill in rural England (the complex includes a working farm, gardens and a guest house). These two permanent installations were created by Björn Roth and his sons, Einar and Oddur, using found objects to embellish functional dining spaces (the New York location is used only for special events but is always open to visitors; the Somerset location in the UK is a full-service restaurant). The gallery also intends to show editions in its soon-to-open Los Angeles location, and the Applebroog suite is featured in a recent issue of Hauser & Wirth Magazine (vol. 4, December 2014–February 2015).
The gallery is excited about this new initiative, as are many of its artists. The primary challenge is geographic; its artists live and work all over the globe—Kuitca is in Buenos Aires; Gallagher in Rotterdam and New York, Mark Bradford in Los Angeles; Pierre Huyghe in Paris; Rodney Graham in Vancouver; Anri Sala in Berlin—so scheduling workshop time is a challenge. Formats are likely to vary with each project; some will be printed in small editions while larger editions may be sold under the gallery's publication program (precedents include artists' books by Bradford and Paul and Damon McCarthy). "We don't have strict boundaries about how we operate or who we work with," Sischy remarks. Villani, for her part, sees the project as "passing the tradition of publishing to the next generation."

 https://artinprint.org/review/hauser-wirth-diane-villani-editions